---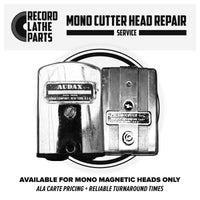 ---
If you need your magnetic mono cutter head serviced or repaired, I've been doing it for the last couple years for my own gear and thought I would put it out there for those with dead cutter heads lying around. I've trained with the Masters: Len and Jacob Horowitz, and also had a lot of valuable assistance/knowledge dropped on me by one of the G.O.A.T.s Mark Robinson.

Price is usually between $150-400 depending on what it needs. It's ala carte pricing so you don't have to pay for anything you don't need. Broken/Missing Parts, stripped/seized screws, fried coils, crumbling bobbins, etc all run up the cost. But, luckily, I've got a pretty good graveyard of dead cutter heads lying around to pull parts from.
Value add-ons: Every head repair includes a reasonable and reliable turnaround time and I will treat you with the respect that all humans deserve and I will be nice to you.



Heads I am confident with (because I've done a lot of them):

Presto 1c
Presto 1d
Presto 1b
Presto 5c
Audax RH5
Audax / RCA / Presto Tombstone Heads
Heads I will "give it a go with middlin' confidence" because I've done one or two, but am not super proficient with:
Astatic UC-8
Astatic M-41
Olsen
Van Epps
Not available for these heads:
Fairchilds
Grampians
Cook