---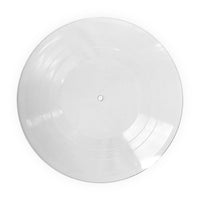 ---
These are 1/16" thick CNC-cut Polycarbonate discs for lathe cutting custom records, and are meant to be used with sapphire or tungsten embossing cones/styli. Available in a variety of colors and sizes.

Color: Clear
Size: 10" round
Thickness: 1/16" (~1.6mm)

If you are using diamond cutting styli, we recommend purchasing your blanks from www.myshank.com.
Shipping
Prices include US Shipping.
For international shipping, bulk shipping larger quantities, or mixed color orders, please contact us.