---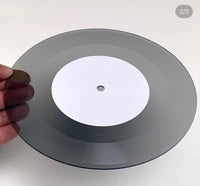 ---
These are 1/16" thick CNC-cut Polycarbonate discs for lathe cutting custom records, and are meant to be used with sapphire or tungsten embossing cones/styli. Available in a variety of colors and sizes. Please contact for availability if site say sold out.
Color - Smoke Grey

Size - 7" round (small hole)

Thickness - 1/16" (~1.6mm)

Shipping
Prices include US Shipping.
For international shipping, bulk shipping larger quantities, or mixed color orders, please contact us.